Incubeta Insider; The Value of A Supportive Culture
In our latest Incubeta Insider we sat down with Amy Norton, Incubeta's UK Growth Director, and mum to one year old Sacha. Returning from maternity leave four months ago, Amy spoke to us about the struggles parents face when returning to work, and how a supportive work culture can help ease the transition back into the office.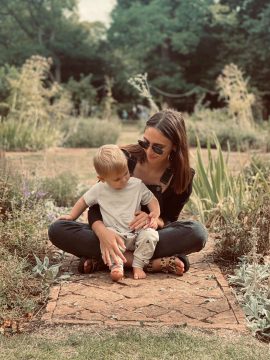 As I'm sitting here I'm in between worlds. Amy – Growth Director at Incubeta, passionate about my client's success, and Amy – mum to a one year old, passionate about three consecutive hours of sleep. 
The 11 months I took off work were as amazing as they were hard. Amazing in the fact I spent every day with my baby and hard in the fact I spent every day with my baby. On a personal level, reaching that 11 month mark was the right time for me to return to Incubeta – slightly more jaded and, let's face it, struggling with emotions that comes with this shift in routine as I've known it for the past year. 
Since becoming a parent I'm so much more aware of the struggles faced with returning to work. Finding the right childcare, being able to afford said childcare, adapting to the lack of tiny hands needing you every minute of the day, the change in hormones which come with dropping feeds and the genuine question of "wait, do I still know how to do my job?"
Despite all the noise, questions and concerns here I am, four months in and feeling rather settled. And it's all down to the supportive culture I have around me. 
Whilst on Maternity Leave I had been asked what level of correspondence, if any, I wanted whilst I was off and to be honest I wasn't really sure. So I told my manager at the time I'd let her know when I was ready. Five months later I had my first team meeting strategizing for the new year. Baby in one arm, laptop in the other. 
Midway through leave my role had shifted to support our new Growth Department which I had started setting the foundations for before I left. With this came a new line manager and, in due course, a new team.
So when the time finally came to discuss my return, I was nervous. This was all uncharted waters for me but I was reassured in a very supportive email from our HR Manager that the ball was in my court. That my new manager was putting zero pressure on my return and, as long as it complied with HR policies, he would 100% take my lead.
I set my expectations and, as promised, these were agreed. I was to ease myself back into working two days a week for a month using accrued holiday before returning to four days. Our three day WFH policy was also, and still is, incredibly helpful. The pressure was off, and I enjoyed the last month just me and my boy. 
The first few weeks back in the grind – what a blur. Checking the nursery app every five minutes in between familiarizing myself with how to use the coffee machine, creating docs with new fonts and branding, learning about Incubeta's acquisitions (a lot happened in a year!) Plus new names, processes and presentations – good job we have a comprehensive L&D platform!
And of course, talking to other parents and friendly faces massively helped. I was quickly reminded just why I love what I do, and what a supportive culture I had around me as Amy BB (before baby) and Amy AB (after baby). 
I'm very conscious about giving advice to parents and carers, after all, I'm not an expert at this parenting malarkey – but I do have some tips. 
Set expectations with yourself and your workplace. Do you need to flexi to drop off and pick up from nursery? Will working part time whilst you settle in relieve some of the pressure? 

Don't put pressure on yourself. Some advice I got was that going back to work after maternity is like starting a brand new job – and this couldn't be more apt. People, processes and passwords change! 

Don't compare yourself to others but do find a return-to-work buddy! Everyone's experience is completely different so do what's right for you – the rest just falls back into place and before you know it…. your groove is back! 
—
To hear more from Amy, register for our upcoming event, Incubeta Ignite: The Future of Tomorrow's World where Amy will be moderating a panel on the changing world of work.
Read Next
Find out how we can help you
With offices around the world, we can build a team perfect for your needs.
Keep up to date with our monthly insight digest